Greetings Cheapalicious Readers!!!
NY & Company was one of my faves stores in high school. They always had cute pieces and great deals. I shopped them less as I got older because they closed the ones closest to me when I was still in Ohio, but I pass one on the way to work everyday. I peeked in yesterday, and saw a cute jacket, and some other pieces but held off on buying because me being so cheapalicious, I just knew I would find a coupon online. And of course I did. Click
here
for a printable coupon to save $25 when you make a $75 purchase with your Visa card. On top of the coupon, there's also a clearance event going on where you can save up to 70%.
Here's what I bought: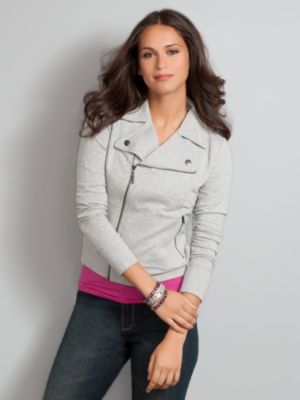 ComfortZone Knit Motorcycle Jacket, $42.95
I have been itching for a knit moto jacket. This one made me go into the store to begin with. I'm looking forward to dressing it up or down. It also comes in black. A little pricy, but NY & Company also has a deal where you buy select tops, and the second one is 50% off!!! I swear I could go broke in there. LOL
With such a great deal, I also bought the jacket for my sister, and finished off my trip with this cute burnt orange peasant-type dress.
The dress was regular $46. 50, but was part of the 70% off items.
Check my math:
2 Moto Jackets: $42.95 + 21.48 =
64.43
1 Peasant dress:
14.08
$25 off $75 Purchase coupon
-$25
Final Cost:
$53.51
I was so pleased. 3 very cool items for a little over $50. With the coupon and the promos, I saved over $80. Gotta love that.
Then I get home, and look what's in my inbox:
NY & Company knows how to reel me in, I'll probably peek in again Friday.